"Live your life to the fullest, because we don't know when our time is going to be."
Those are the words of David Robertson, a man born and raised in Prince George who has been checking items off his bucket list after receiving a terminal cancer diagnosis in January.
He just checked off his first major bucket list item earlier this week – traveling at breakneck speeds in a super car.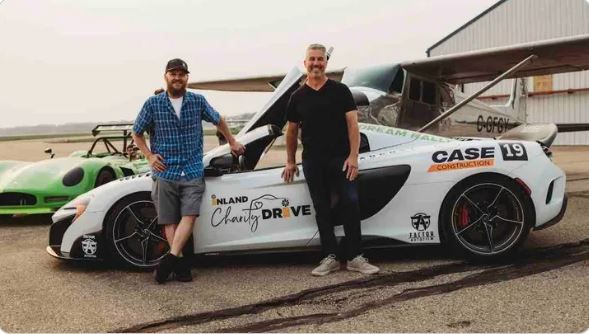 "It was an awesome experience," he told My PG Now, saying it was all thanks to his sister Amanda. "We went just over 300 kilometers an hour. It was fun, to drive the car too, it was epic."
The joyride took place at an undisclosed place in or near Red Deer, where David is living now.
Brent Marshall, another former Prince George resident and philanthropist, helped make the joyride happen, bringing the cars from the Okanagan for David to drive.
David was diagnosed with a rare stage four variant of kidney cancer on January 13th.
"A couple months before that, my hips were acting up," Robertson said – sneezing was enough to fracture his pelvis.
"I went to the hospital, they did a CT. They told me I had stage four kidney cancer."
The cancer has spread throughout his body, including his bones, lymphatic system, both lungs, kidneys, hips, adrenal glands, ribs, and a lesion on his skull.
He is 41 years old.
David said his family that has meant the most to him through the journey, saying he has felt love like he has never been loved before in the past few months.
Skydiving with his daughters is a bucket list "must," he also wants to see Nitro Circus live, go to the Baja 1000, and to "try bungee jumping – even though my cousin says it is kind of sketchy and crazy," he said with a laugh. "I'll take whatever comes my way."
There is one item on his list that is above and beyond all else: to get in contact, or spend a day with Matthew McConaughey, Snoop Dogg, and / or Elon Musk.
"With Snoop Dogg, I just want to smoke a doobie with him," he laughed.
"McConaughey, I have been watching some of his inspirational videos. He is motivational, inspirational, he is someone I could talk to, would love to spend a day with," he explained.
"And Musk, I just want to pick his brain about mars," he said, adding that he has an idea that he thinks Elon might like – an idea he wouldn't share with us. "That is for Elon's ears only, sorry."
David's favorite McConaughey movie is The Gentlemen, and his favorite Snoop Dogg songs are Gin and Juice or The Next Episode.
He said if he could relay one message to McConaughey, Snoop or Elon, it would be to "keep doing what you're doing. There is no one else out there like [you], and it would be absolutely amazing to meet."
At this point, David said there has been no leads on getting into contact with any of the three, but he is in high spirits.
David's family has also set up a GoFundMe page to support David, his girlfriend Elyse, and the four children they raise, through this time.
You can find that page here.