Hi I'm Kyle, a fresh newbie into the radio industry from Alberta. I've been experiencing everything the radio has to offer as well as the amazing town of Vanderhoof with immense curiosity and lots of fun.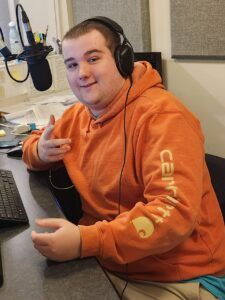 I enjoy lots of pop culture new and old like the latest superhero movies and the dumb trends my generation seems to be sharing on social media to some of the older things like old saturday morning cartoons and comic books.
You'll be able to hear me from 6AM-12PM on air for the morning show but expect to see me anywhere out and around town enjoying all the amazing restaurants we have and our local aquatic center!
Hope you enjoy the show and I can't wait to meet you in town!
Tune-in weekdays with Kyle from 6am-12pm