Active listings across northern BC are inching back up to healthier levels.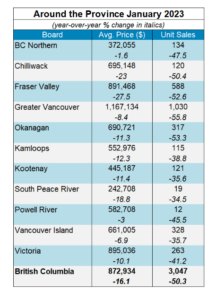 That's according to the BC Real Estate Association which stated there were 1,325 listings in the region last month – a 60% year-over-year spike from the same month in 2022.
Economist, Ryan McLaughlin says the reversal of fortunes is a very positive sign.
"We are trending back up. If you look at the big picture, we are still below where we were in 2018 but things are well ahead above where they were at their bottom, which was at the beginning of 2018."
"It's a softer market right now and many people are anticipating that the market will bottom out over the course of this year. The central bank looks like it's going to be stopping rate hikes so that is good news for the market from a sellers' perspective."
McLaughlin also noted the Residential Sales to Active Listings ratio is at a much healthier level at 10.1% – it was a whopping 30.7% in January of 2022.
Despite this, home sales in the north dipped by 47.5% over the past 12 months.
Just 134 sales were tallied in January – a far cry from the same month in 2022 when it was nearly double the mark at 255 transactions.
The average price for a single-family home in our region is just over $372,000.
Provincially, the average price is a shade under $873,000 – a 16% dip when compared to January of 2022.