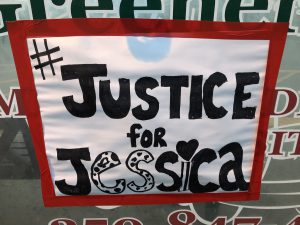 The funeral for Jessica Patrick – Balczer is currently underway at St Joseph's Cathedral in Smithers.
Mayor Taylor Bachrach has set up a GoFundMe page for the family of Jessica Patrick.
In the two days since the page has launched, it has raised almost half of the $5,000 goal.
Bachrach says the page was set up to help the family with the funeral costs and to put some money in a trust for her baby daughter.
He says, "It struck me how many people in our community have been moved by Jessica's death."
Close to 40 people have already donated to the page.
Jessica went missing in August 31st, and her body was found by family members two weeks later on Hudsons Bay Mountain road in Smithers on September 15th.
Anyone wanting to donate can do so by clicking here.
Although no further details are released, Police are treating her death as a criminal investigation.
Anyone with information regarding Jessica Balczer's death is asked to please contact the Smithers RCMP at (250) 847-3233, or Crime-Stoppers at 1 (800) 222-8477.
– with files from Sawyer Bogdan, My Bulkley Lakes Now