The torch has now been lit for the 2024 BC Winter Games in Quesnel.
Athlete Ivy Sinkinson did the honours at a ceremony to mark the 96 day countdown to the games, held at Spirit Square on Reid Street in downtown Quesnel.
Liv Boudreau, Petra Peter, Anne Maria Kadenback, Avery Cassidy, and Brooklynn Novak were the other torch bearers.
Cariboo Regional District Chair Margo Wagner talked about what will make this event unique.
"I believe it's the first time that an Indigenous Nation and a non-Indigenous Nation have combined to get the games, so that is a tremendous achievement and both the Lhtako Dene and the City of Quesnel need to be proud of that."
Lhtako Dene Chief Clifford Lebrun was also one of the speakers.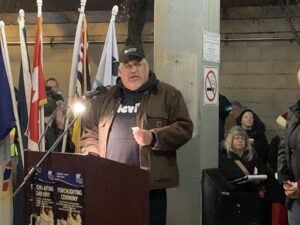 "This is a really big event for our little town and we're very proud to be part of it and I'm sure the town is too. We would just like to welcome everyone. We've been here for a long time and we're not going anywhere so we can have more of these games."
Quesnel Mayor Ron Paull put out the call for volunteers.
"We need up to 2,000 volunteers. My past experience says yes these volunteers will come through for us. Quesnel always comes through."
Paull also talked about the other times that Quesnel had hosted either Northern BC or BC Winter Games in 1982, 1993 and 2000.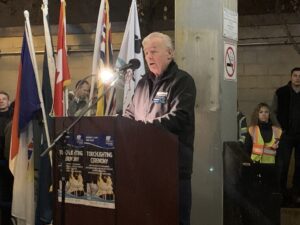 " We're so proud and thankful that the 2000 Quesnel BC Winter Games legacy of 50 thousand dollars ignited our beloved Quesnel Community Foundation, which has grown to over 4 million dollars today."
Games Chair Brian Balkwill noted that they had more than 400 volunteers so far, but that obviously more were needed.
He also talked about why so much help was needed.
"First is there is going to be 15-hundred athletes coming to town. They are going to arrive in 30 Coach Line buses, and 3 charter planes, so you can imagine what it's going to do to the size of our community. All of the schools will be closed Thursday and Friday and that's where all the kids are going to sleep. The hotels, the businesses are going to be super busy. In fact, previous studies have shown that about 1.7 million dollars in revenue will come to the community during the games and after the games."
Balkwill went on to say that the meals will be served at the Seniors Centre.
"There is actually 20,000 meals that will be served over that four day period."
The four day event will begin on February 22nd and run through the 25th.
–Files by George Henderson, My Cariboo Now staff