"We really need justice for Dale."
That's from Virginia Pierre, who is the aunt of Dale Carver, an Indigenous man who died during a struggle with local police in July 2017.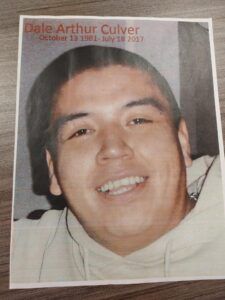 Five Prince George RCMP officers are facing charges in the matter.
Cst. Paul Ste-Marie and Cst. Jean Francois Monette each faces a count of manslaughter while Cst. Arthur Dalman, Cst. Clarence (Alex) Alexander MacDonald, and Sgt. Bayani (Jon) Eusebio Cruz has been charged with attempting to obstruct justice.
Pierre said what was more troubling was finding out Dale had died – three days after the incident occurred.
"It's just like a nightmare. We still couldn't believe it the next day – 72 hours before we found that he is gone and now we are waiting over six years and then all of a sudden, nothing is happening. There is something wrong here."
"Dale was a nice, young, healthy guy. They (he and his family) were going to go back to Vancouver and get a condo where he wanted me to stay with him. This was before the baby arrived. Now, he is gone, we have court happening and he can't be here to defend himself."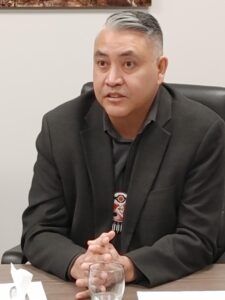 BC Assembly of First Nations Regional Chief Terry Teegee stated the volume of police incidents with excessive force that involve Indigenous people is far too high.
He noted these types of incidents have been a long-standing problem in Canada.
"In early 2003 and 2004, there was a case here involving Clayton Wiley which was a death in custody as well as many other instances in Edmonton, Winnipeg, and Thunder Bay."
Simply put, Teegee believes Indigenous residents shouldn't feel that they might lose their life if they are arrested by the RCMP or any other police force in Canada.
"Nowhere in this world should that occur. Quite simply, it's very disheartening to hear of this happening, again and again, and again."
Teegee also holds the Justice portfolio on behalf of the Assembly of First Nations alongside Ghislain Picard, who is the Regional Chief of Quebec-Labarador.
He added despite the fact Indigenous residents were the first to land on Canadian soil, they still bear the brunt of being the worst in several major statistical categories.
"Not only are we the most incarcerated but during the pandemic, we had the most infection rates, we had the highest death rates and we continue to have the highest because of the opioid crisis."
Family members of Culver held a media event at the House of Ancestors in Prince George today (Monday).
The court proceedings for the officers involved were scheduled for tomorrow (Tuesday) but have been delayed until May 2nd.
As another sign of support, family members will also be in front of the Prince George Courthouse tomorrow (Tuesday) at 9 am.