We've all heard stories of people donating one of their organs to a friend or family member but what about someone who gave up their kidney to a complete stranger three provinces away in Manitoba?
That's what Carolynne Burkholder-James of PG did as she is one of 200 non-directed anonymous donors in Canada who participates in a national kidney-paired donation program.
In what is often called chained-kidney donations, anonymous donors and patients who need a kidney are matched via blood types.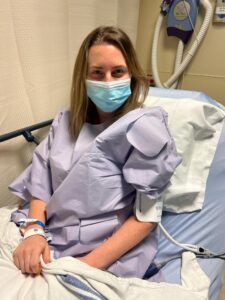 Burkholder-James told Vista Radio the process prior to her December surgery in Vancouver was pretty thorough.
"They make sure you are really, really healthy before you donate your kidney. There were tests here in Prince George along with a few others in Vancouver and then my surgery took place in Vancouver and then the kidney was shipped on Air Canada all the way to Winnipeg."
Burkholder-James encourages others to do what she did.
"There's not many people in Canada that choose to do this. I would encourage more people to think about it. The way it works with the kidney chain is that because I was a non-directed donation, a lot of people have loved ones who are willing to donate on their behalf but they don't match, they don't have the same blood type."
She first found out about chained kidney donations after reading an article in the New York Times over a decade ago.
"It basically means that if you have one non-directed or altruistic donor, that can impact multiple people. I was like, yeah, I would love to do that."
"A couple of years ago I decided I was ready now. I and my husband were done having kids, I'm established in my career and I thought this would be a good time to make this happen."
Burkholder-James, who has three children, admitted the operation was actually less painful than a C-section.
Burkholder-James, who is originally from Vanderhoof, practices law at Marcotte Law in PG.