Any displaced forestry workers looking to get back into the sector are in luck.
Mercer International is hosting a two-day career fair in Prince George today (Thursday) and Tomorrow (Friday), looking for skilled workers to join their operations in Peace River and Castlegar.
Vista Radio caught up with talent acquisition manager Megan Cook who explained why a trip to the northern capital was necessary.
"Well, we're here just like everyone else is – to explore opportunities and introduce ourselves to the central interior. We're always looking for talented, energetic people to join our team and the Prince George/central interior region is well-known for innovative people, particularly in the forest industry. We already have quite a few employees from this region and so it seems natural to us to be here to share our vision to, hopefully, prospective employees. We are excited to be here,"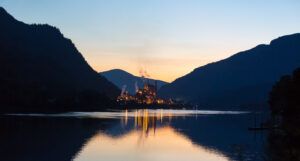 Cook mentioned Mercer had previously planned the career prior to some of the recent shakeups in the forestry sector in the north.
"We would be at this career fair in any event. While we are aware that there has been some displacement of workers in our industry recently, attending career fairs to expand our network is important to us. We are happy to be here to talk to people about our company."
2023 has been a horrible year so far within BC's forestry sector with several curtailments and closures occurring.
In January, Canfor announced 300 jobs would be slashed from its pulp line at the PG Pulp and Paper Mill.
In addition, the company also decided to shut down its Houston operations for a period of at least two years, impacting another 300 people. Furthermore, Canfor elected to close its Chetywnd facility displacing another 157 workers.
To make matters worse, Sinclair Forest Products announced a two-week curtailment at three of its northern BC locations, which took effect on Monday (January 30th).
This included Lakeland Mills in Prince George, Apollo Forest Products in Fort Saint James and Nechako Lumber in Vanderhoof.
Tolko issued additional downtime at its Soda Creek mill in Williams Lake, affecting 180 employees.
In August of 2022, West Fraser permanently halted production at Fraser Lake, Williams Lake, and Quesnel mills.
Despite the recent turbulence, Cook and Mercer International are optimistic they can weather the storm and come out on top.
"Look; we are aware that our industry is undergoing considerable change at the moment. The global economy is bracing for some form of recession and there are pressures on wood supply, inflation, and….relevant for my reason for being here today, a shortage of talented employees."
"However, we are extremely optimistic about the industry. We experienced the most profitable year in my company's history in 2022 and we continue to grow. Further, the demand for sustainable, low-carbon products like the ones we make, products that displace plastics and sequester carbon….like mass timber construction solutions, and innovative packaging, and in the future, other innovative derivatives of wood. We are fortunate to be in a region with some of the most rigorous land use standards in the world….but this means that fiber is scarce and valuable, and only the most modern, forward-thinking companies will be able to work with these standards. We have a lot of experience working with much higher land use standards in Europe and we will adapt to changes in these standards in BC and Alberta as well. Our industry is modernizing very quickly, and we need a workforce that can help adapt with us.," added Cook.
The job fair is being held at the Courtyard Marriott Hotel and runs from 8:30 am to 8:00 pm each day.