The BC Nurses' Union says it is deeply concerned after Northern Health Authority (NHA) was issued a substantial fine for failing to adequately complete workplace investigations related to safety.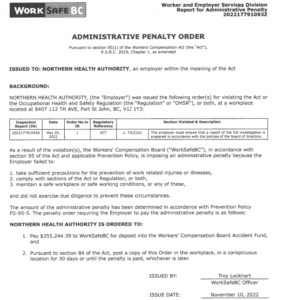 WorkSafeBC levied a $355,249 administrative penalty on our health authority for failing to conduct adequate workplace inspections following reports from nurses and other healthcare workers about ongoing safety issues.
President Aman Grewal has serious concerns as to whether this penalty is indicative of a systemic oversight by health employers and the government on the issue of violence, health, and safety.
"While the recent announcement of new protection security officers is a step in the right direction, this shows us there is much more that needs to happen within health authorities to make worksites safer for nurses and all health care workers, said Grewal.
"The fact is, all provincial health authorities use the same provincial reporting system, and we know there are issues with the system as we've seen with this penalty."
The Nurses Union added similar issues have been seen in other health authorities, including Vancouver Island, which was ordered to engage in a compliance agreement with WorkSafe for poorly conducted safety investigations and low safety training rates.
Grewal and the BCNU are calling on the government to audit all occupational health and safety reports from the last year to ensure investigations are conducted and that corrective actions are put in place to keep healthcare workers safe.
Northern Health issued the following statement to Vista Radio:
Northern Health has a robust reporting process to address hazards and near-misses to support a strong safety culture and environment. Northern Health's injury rate is lower than the provincial healthcare average, and NH continues work to advance the health and safety management system.
In Peace Villa, our measurable rates are trending positively, such as reduced violent interactions. The Peace Villa team continues to improve investigations (including information identified by WorkSafeBC as key for the report, such as job titles and phone numbers), with additional training and on-going support from their Joint Occupational Health and Safety Committee.
We are committed to ensuring compliance with BC Occupational Health and Safety Regulations and will be assessing the penalty and continuing to provide WSBC additional information about the work we have completed between the issuing of the order and the penalty that was given. We hope to re-visit proposals we had previously submitted to WSBC prior and during the pandemic that will address the administrative challenges we face from the current system. That proposal included plans to invest and improve the provincial incident investigation platform to support our staff in reporting efficiently and generating thorough investigation reports.