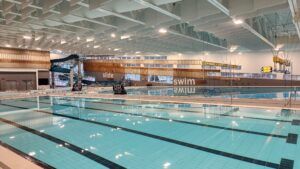 At long last, construction on the new Canfor Leisure pool in Prince George is complete, and the grand opening is under a month away on Sunday, November 13th.
The pool features a six-lane, 25-metre long lap pool, a lazy river, a kids splash park, a waterslide, and male, female, and universal change rooms.
But, the attraction that stole the show at today's (Wednesday) ribbon cutting is a "NinjaCross" obstacle course, which has two challenging routes that hang over the pool.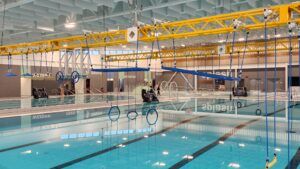 It is complete with a timer for speed competition, and the course can be raised into the roof when it is not in use.
This course is the first of its kind in Canada.
The pool is also equipped with Smart Glass technology, the first pool in the province to incorporate the technology.
A sensor will track the sun and adjust the windows automatically, helping to control the pool's temperature in an environmentally friendly way.
The pool is also connected to the Downtown Renewable Energy System, which the city says will result in 84% fewer gas emissions than if it was run on natural gas.
The pool's grand opening is on November 13th, which will feature games, prizes, and cake for 200 registered guests, but they will also be running a soft launch in the days leading up that guests will also need to register for.
Regular pool hours start on Monday, November 14th.
📣 It's the moment you've all been waiting for: an update on the Canfor Leisure Pool! Here's a little sneaky peak from last week. 📣

Registration for the soft open (Nov. 9-12) and grand opening (Nov. 13 at 5:30) swims will open on November 1 at 9 am! #CityofPG pic.twitter.com/mcqtjK1h8l

— City of Prince George (@CityofPG) October 19, 2022
So the new #CityOfPG pool… pretty nice 😗 pic.twitter.com/Ivydf9vMH1

— Will Peters (@WillPeters_1) October 19, 2022
The Canfor Leisure pool is a project that has been five years in the making.
In 2017, 60% of voters were in favor of a new pool to replace the 50-year-old Four Seasons Leisure Pool.
"I had the opportunity to watch the build from my office, from the time they broke ground to what you are standing in today, and it was a phenomenal watch," said Mayor Lyn Hall over zoom.
"I have to admit that I did take the odd peek late at night after a council meeting, if there was anybody working and the gate was open I would sneak in and look in the window."
Hall is wrapping up some of his mayoral duties in Victoria, but said he is very excited to come back home and check out the completed pool.
"Site preparation began in late summer, 2019" said Andy Beesley, the city's Director of Recreation Facilities.
He said in hindsight, that ended up being very unfortunate timing.
"You know what happened next. The pandemic struck, and it brought staffing challenges, supply chain issues, and a host of other bumps along the way. They weren't bumps, they were mountains."
These challenges were reflected in the pool's budget.
In May of 2022, City Council approved a 2.8 million dollar budget increase, due to bumps in the costs of material and labour.
They also approved a $500,000 increase for the aforementioned NinjaCross obstacle course.
As of August, the total budget is $39.13 million, the original budget set in 2017 was $35 million.
"In spite of these problems, our staff adapted and everyone soldiered on to keep this project as on time and on budget as best they could" said Beesley.
Canfor has committed $75,000 a year for five years for naming rights to the pool.
The pool will hold 80% of swimming lessons in Prince George.
You can sign up for the soft launch of the pool, or the grand opening party, starting on November 1st at 9:00 am here.