After seven days on the road, the Cops for Cancer Tour de North raised $150,000 for childhood cancer research.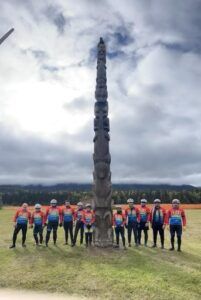 Law enforcement and emergency services personnel biked over 850 kilometres from Prince George to Prince Rupert, reaching their final destination yesterday (Thursday).
"CCS is the largest national charitable funder of childhood cancer research in Canada and an advocate for better support for families," says Ninon Daubigeon, Senior Manager, Cops for Cancer. "None of the work we do would be possible without the Cops for Cancer program. We are extremely grateful to our first responder partners across the province, and for the contributions of our generous sponsors and donors."
Just over 1,000 children aged 0-14 in Canada were diagnosed with Cancer in 2021.
The Canadian Cancer Society has invested over $16 million dollars in childhood cancer research projects in the last five years.