The March With Arch Ceremony took place at the Williams Lake First Nation (WLFN) Pow Wow Arbor this morning (September 19th).
St Joseph's Mission Residential School Survivor, Archie Chantyman began the march at the Lhoosk'uz Dene Nation, and carried ashes from letters of survivors to be set down at the ceremony.
Chief Willie Sellars says that events such as this highlights the importance of healing.
"When we think about the healing journey as Indigenous communities, it's about this education, it's about standing together," says Sellars.
"and I'm very thankful again to see the non-Indigenous contingent here supporting us, and standing with us, standing beside us, because we're not going to be able to do it without you as well."
The ceremony gave appreciation to those helping with the investigation into the residential site, along with speeches at time to honour residential school survivors.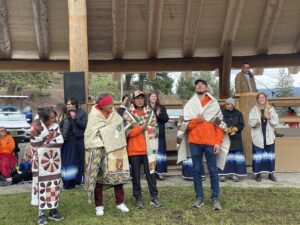 Sellars spoke about the team at WLFN thinking about the weight on their shoulders from the sensitive work around the residential site, but notes their ancestors that are holding them up at the same time.
Chantyman said that the six communities traditional territories that they walked through had all welcomed them with open arms.
Tomorrow (September 20th) will be the last day for the march, as they will make their way to St Joseph's Mission Residential School.
–Files by Zachary Barrowcliff, My Cariboo Now