The Regional District of Fraser-Fort George has expanded evacuations alerts and orders surrounding two wildfires in the region.
The first is surrounding the Ocock Lake Wildfire near Noonlang Lake.
This is in conjunction with the Regional-District of Bulkey-Nechako.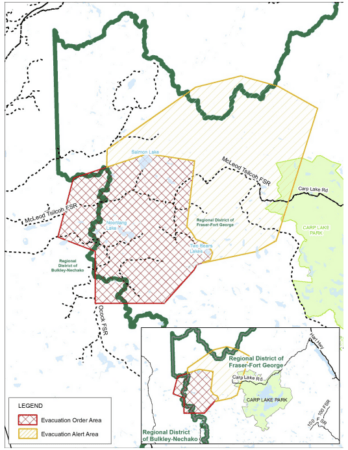 As of 5:00 p.m. yesterday (Friday), the Ocock Lake Wildfire, which is about 50 kilometres north of Vanderhoof, is an estimated 2,929 hectares.
The other expansion of orders and alerts surrounds the Great Beaver Lake Wildfire.
The order area has been expanded 959 square kilometres to the north east, while a new alert area 729 square kilometres has been added east of the order area.
As of 8:18 this morning, the Great Beaver Lake Wildfire is an estimated 36,173 hectares.
The BC Wildfire Service is warning significant growth to the northeast could occur today with winds forecast up to 60 kilometres per hour.