An area restriction order is now in place for the vicinity of the Teare Creek wildfire, east of McBride.
According to the BC Wildfire Service, despite being held, it remains a wildfire of note, meaning it is not likely to spread beyond its current boundaries under current conditions.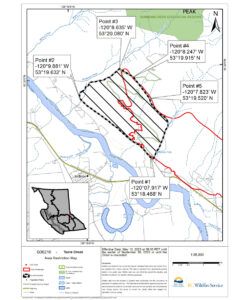 Four attack crews along with one unit crew consisting of four officers and four helicopters are battling the blaze at the moment.
The restriction will include area closures and activity restrictions to limit the risk of fire and to address public safety concerns or to mitigate any interference with wildfire control efforts.
The order is now in place and will remain enforced until September 30th or until it's rescinded.
This means a person must not remain in or enter the restricted area without prior written authorization unless the person is:
— Travelling to or from his or her residence.
— Using a highway as defined in the Highway Act.
— Travelling through or entering the area as a person acting in an official capacity; or
— Travelling through or entering the area for an approved purpose of supporting wildfire suppression activities
— Failure to comply with restricted area requirements may result in a violation ticket for $1,150.