The Barkerville Highway is down to single lane traffic due to a washout between Cinderella Road and Stanley Road about 12 kilometres west of Wells.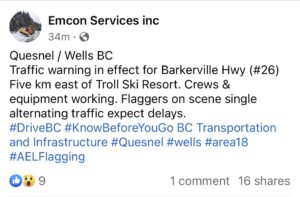 Mayor Ed Coleman says it could become more of a concern.
"There are a number of weak points on Highway 26 that have to be watched and they'll blow out really fast, so the biggest concern is if the Highway got cut off in a place where you couldn't bypass the problem."
Coleman says Emcon Services was bringing in some rip rap to do some repairs.
"I have had some pretty good conversations with highways staff, that a number of different locations are on watch and Emcon keeps an eye on them.  When they get weak they get weak quickly and can lead to a blowout."
If the Highway were to be cut off, a Local State of Emergency would likely be declared by the District of Wells.
Coleman says they are also monitoring the water levels of the Willow River in Wells.
"The water levels are starting to come up and we've got some erosion in a few places that we've been keeping on watch.  One is near the bridge as you go through Wells.  We have an engineer looking at that today just to assess the erosion factor because we have a sewer line that crosses that area so we want to be really careful to watch for any ground movement."
Coleman says the walking bridge downstream has some erosion around it as well.
He says the melt is a little behind this year and he says that means that the water levels can come up quite rapidly if you get rain and some warmth at the same time.
–Files from George Henderson, My Cariboo Now