Mill tradespeople and technicians are now able to access specialized entrepreneurship training to gain the necessary business skills to grow their own operation.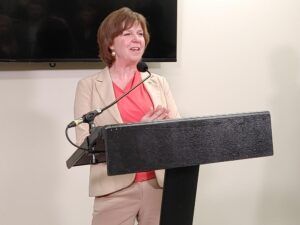 A three-year $2.95-million grant was presented to Hubspace in Prince George today (Friday), to roll out the Build Your Own Future program.
"The forestry industry and communities are facing challenges, so we are supporting those affected by helping them land stable, good jobs and move away from the old boom-and-bust cycles," said Sheila Malcolmson, B.C. Minister of Social Development and Poverty Reduction.
"People who want to build their own businesses can get training and in-person support through our funding, so they won't have to face that process alone."
The program will include training in finance, marketing and sales, operations, project management, health and safety, customer service, leadership, and diversity.
In addition, those who complete the training are eligible for a $5,000 grant to cover qualified business startup expenses.
"When people need support preparing to return to work, the federal government is there to help" said Carla Qualtrough, federal Minister of Employment, Workforce Development and Disability Inclusion.
"Supporting Hubspace will make sure forestry workers can stay in Prince George and make their community stronger. This grant will help workers gain the foundational skills they need to do that."
Earlier this year, the BC Government committed $185 million to people affected by weakening markets and changes in the forestry sector.
Furthermore, the Province sought innovative ways to support forestry workers and rural communities affected by downturns in the sector.
"Thanks to the Province of B.C., the grant will allow us to support the entire province in areas affected by mill closures and curtailments," said Mary Mytting, executive director, of Hubspace.
"Our Build Your Own Future program offers an innovative approach to supporting mill tradespeople's and technicians' transition into business ownership, keeping them in their communities and their families together."