Vanderhoof's golf season hasn't even started yet and already some challenges have been brought to the forefront.
According to the Vanderhoof Golfers Association, the Omineca Golf Club sustained $10,000 – $20,000 damage over the weekend after a couple of people drove their ATVs onto the fairways, ripping up much of the front nine.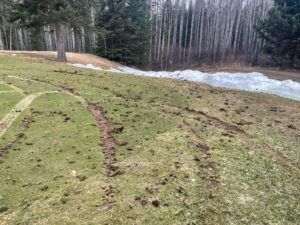 Manager, Steve Little told Vista Radio this will likely mean a staggered opening to the season.
"We are going to open up the back nine this weekend unless it starts snowing again. We are hoping can get that nine up but the front nine will likely be delayed a week, probably closer to two."
"We got to get seeds planted and we can't really get people on the greens now unless we set up a couple of temporary ones and figure something out that way."
A $500 reward is being offered for information leading to the arrest of those involved.
"Basically what happened is they came through the back bushes and got onto the fairways driving quads or side by sides. They just did donuts all over the fairways, tee boxes, and the greens."
"It's all sort of hidden from the highway in the back but they hit five out of their 18 holes," added Little.
The Vanderhoof RCMP is investigating the file.