BC Forests Minister Bruce Ralston says Canfor is still a month or two away from making a final decision on its Houston operations.
In January, the company announced a two-year closure of its facility putting 300 people out of work.
In an interview with Vista Radio, Ralston stated discussions regarding a modernized mill are still taking place.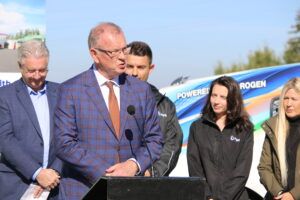 "They have a plan that they have to consider and I want to stress again they have not made a decision and I don't know what that decision will be. I am hopeful they will decide to build a new modernized mill – we will see in a month or two when they make that decision."
"In order to make those kinds of decisions you need to generate a profit and you need to generate capital to make that investment."
Canfor also announced the permanent shutdown of its Chetwynd location as well as the closure of its pulp line at PG's Pulp and Paper Mill.
Ralston mentioned while seeing these rough patches can be very unsettling, modernizing the industry is the only way forward.
"It's a big change. Change is never easy and in some cases, it is agonizing and tough. I understand that and I talk to people about it and am very direct with it. I think in the long run we will build the kind of forest industry that will endure and ensure prosperity to many of the communities in British Columbia."
"We want a forest industry, we want people who are willing to invest in our forest industry in British Columbia. I think that is a hallmark of the success of and the growth of the industry will be a new investment."
With the future of the forest industry likely to be smaller and more scaled back, Ralston is putting an emphasis on value-added products.
"Whether you are making plywood or siding – some of the high-value sidings is being sold to countries like Japan and they can't get enough of it. That's the beauty of British Columbia wood and they pay very, very well for that."
Premier David Eby is closing off the COFI Convention today (Friday) with a keynote speech.