Canadians lost 9.2 million dollars in so-called "emergency" scams last year according to our country's Anti-Fraud Centre.
That's a massive jump when compared to 2021 as just 2.4 million dollars was lost.
As a result, police along with the Anti-Fraud Centre has launched a campaign to warn people about the dangers of on-line and telephone scams.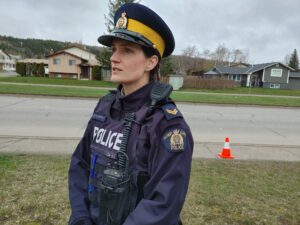 Cpl. Jennifer Cooper with the Prince George RCMP told Vista Radio the most common call in our city is when fraudsters state there is something wrong with a user's computer, offering to fix it for a fee.
"But, the payment needs to be made via cryptocurrency and we've had people lose quite large sums of money. Of course, this is often untraceable and unrecoverable so it can be quite the financial loss for some people."
"It's hard now to determine what is actually a fraud or if that is something you should legitimately be following. It can be very confusing."
To make matters worse, Cooper adds unless you live completely off the grid, no one is exempt from scam calls, not even police officers.
"Even here at the police detachment, we get texts and even emails to our work phones and everything that is detached to any credit cards or accounts. It's just the number of scams that are coming in and some of them are a lot more convincing than others."
With the advancements in technology, accessing information and keeping up with current events is easier than ever for scammers. Cooper noted that's part of the reason we often see people posing to work for crown corporations if a dramatic event or funding announcement occurs days earlier.
"They catch on to a lot of different forms and they catch on what's going on in local regions. If ICBC is giving out rebates all of a sudden and then you start getting text messages and emails about your rebate. There are also ones that have to do with shipping parcels as well because that's incredibly popular."
With e-commerce becoming more and more popular, Cooper adds online shoppers should always deal with the company they purchased a product from directly.
"What we recommend is that you go directly to that company's website and get the information directly from them as opposed to following any information that is provided to you via text message For example, you might get something that says 'click here' to reschedule your delivery."
Cooper adds if you come across something that might be a scam, call someone right away and avoid clicking on embedded links or a phone number that's provided in a text message or email.