It was a cold and snowy afternoon in Prince George, the perfect time for people to gather in support of those who live in these conditions every day in Moccasin Flats.
That was the consensus from well over one hundred people who showed up to the flats for a healing fire, hosted by the Vanderhoof-based Saik'uz First Nation.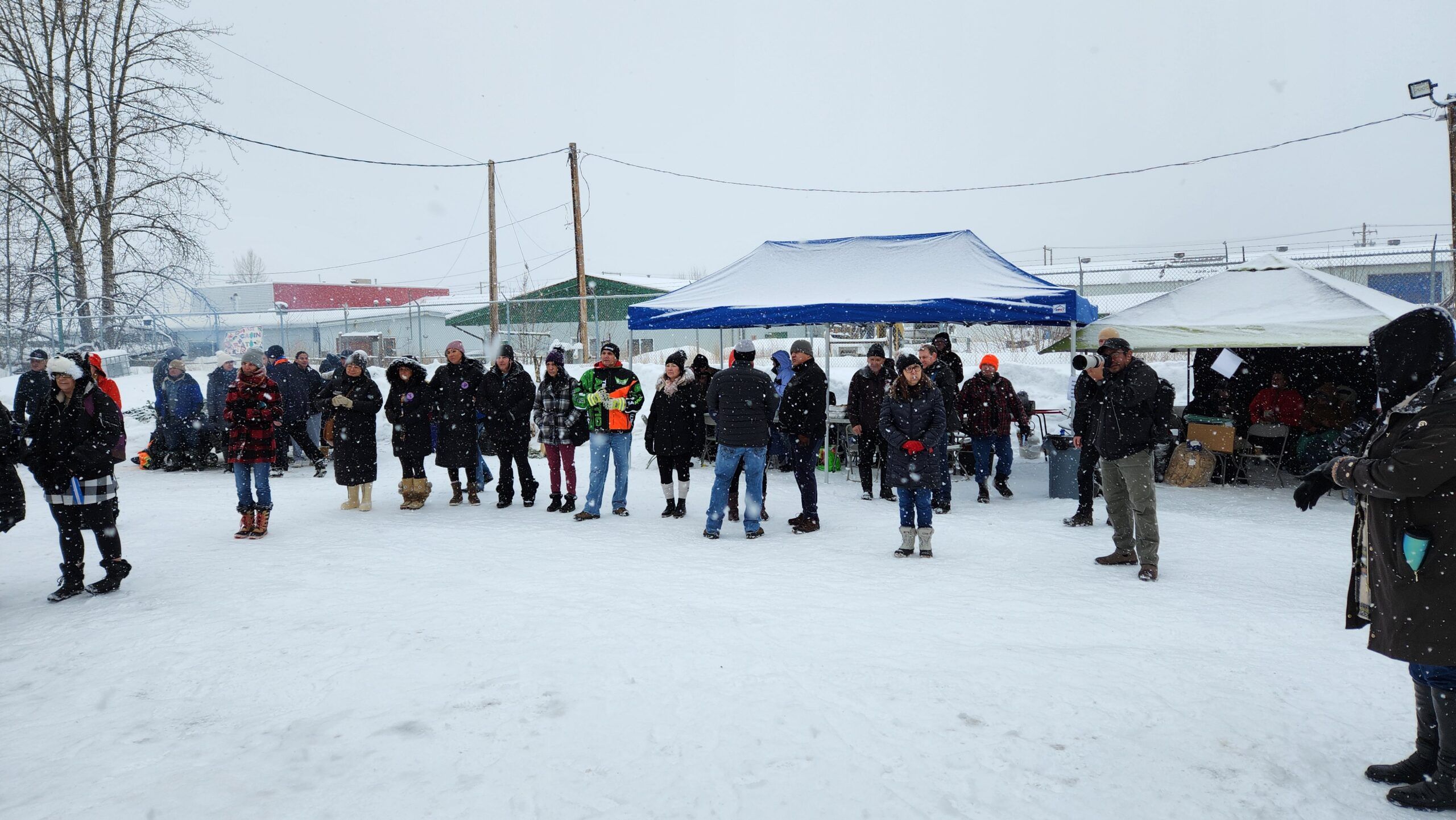 Volunteers and local organizations brought out trays on trays of sandwiches, soup, coffee, hot chocolate and desserts to help the community of people living outdoors, as well as tents to stay out of the snow – and of course the fire itself.
Representatives from about a dozen Indigenous groups from around Northern BC spoke with more invited who could not make it, likely due to travel conditions.
Opening the afternoon's speeches and addressing the crowd, Saik'uz Chief Priscilla Mueller said "we are here today to build connections and let our members know they are not forgotten."
She talked about people on the streets who have died to toxic drugs, and said the healing fires are to re-build a sense of community after the pandemic left many feeling isolated, and to give friends and families a safe place to mourn loved ones.
"Sometimes they just need to be sitting around a fire and they just need to have an elder sitting beside them, us singing some songs from home to give them strength and keep them going."
Mueller said since 2019, the Saik'uz nation has had 53 deaths, in the first three weeks of January they had three people under the age of 30 pass away due to toxic drugs.
"We have had three funerals in the last three weeks. Our community is really grieving right now, and I know it is not just our community," she said.
Mayor Simon Yu also spoke at the event, promising to "do [his] best to address the problems we are seeing here today."
He talked about the BC Coroner's report that said 181 people in Northern Health died of drug overdose in 2022, saying that number is "not acceptable," and that "Prince George can do better. We must do better."
After the speeches concluded, Mueller told Vista Radio that further collaboration between Indigenous communities is necessary to help solve problems that residents of Moccasin Flats, and others, are facing.
"We can't just depend on the province and the government to do things for us," she said.
"It is awesome that chief Priscilla brought us all together to let everyone know that we are here for them. Homelessness is a huge issue that has been for years and years," said Lheidli T'enneh Chief Dolleen Logan, also present at the event.
She said the issue is close to her heart, and that her uncle, a residential school survivor, was homeless by choice.
"Members here can see they are being noticed and that we care about them. That is the main thing, we care."
The two also discussed what they would like to see done by the city and mayor Yu.
Mueller wants steady communication with impacted people, "the members here, if we ask them they will tell us what they need," adding that they will hold Yu to his word and his campaign promises over the next four years.
Logan mentioned that her and Yu have been having meetings, and that there could be hydro and other basics coming to Moccasin Flats to join the porta-potties that were installed recently.
"This is their home," she said. "Prince George has always been a gathering place for all the neighbouring first nations. We are here in their neighbourhood visiting, and we will help them out like we would any other neighbourhood, with the basics."
A drum circle gathered around the fire after the speeches concluded, and a group of Chiefs was later toured around the city to see and experiencing the full scope of issues downtown.