BC's top doctor made the trek north to attend regional caucus meetings in Prince George.
Bonnie Henry spoke with representatives from Northern Health and the First Nations Health Authority this week to discuss a variety of topics including COVID recovery, access to mental health resources, and the toxic drug crisis.
Henry told Vista Radio the last two-plus years have been a drain on our society so it's important we pull each other up when times get tough.
"We've been through a really tough time and where I come from, we say that common suffering builds strong bonds. We have to remember that now. We will get through this, we will learn to live with this and we need to do it by remembering how important it is to have respect for each other and to have compassion."
Henry added even with the triple threat of RSV, influenza, and COVID circulating in our communities, reverting back to stringent pandemic measures like mandatory masking and closing off dine-in service at restaurants aren't likely to return.
"What we do have are things we can do every day. We can get vaccinated by getting our COVID booster and our flu shot – we know that makes a difference. We can make sure children are protected both with influenza and with COVID and then every day we have to do that risk assessment."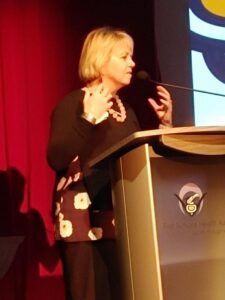 When asked if surgery postponements will become a normal practice in our healthcare system if hospitals operate at capacity, Henry answered with a resounding no.
"We've had contingency plans in place. We have a children's hospital (in the province) where they have put in a separate urgent care and triage centre so that the most severe illness can be treated. Those are things we need to do every year and it's an absolute last resort to postpone surgeries."
"Surgery delays are always hard on families as well as the people who need those surgeries. Yes, we are going to have them every respiratory season as we did before if there are people that are off sick, who are key to that surgery. But, I think I don't see us going back to broad measures across the board where we need to close down operating rooms across the board."
Furthermore, while the rest of society adjusts to a more normal life once again, Henry noted she is still escorted by security everywhere she goes.
Henry added there are still small pockets of the population expressing their frustration over the province's handling of the pandemic.
"It's still been challenging. There is still a faction of the population who feel like we should be doing what China is doing (zero Covid strategies) and then there is another faction who are still very resentful of what happened. What I hope is that people take the time to go back to the things we know that make us a community."
Henry also attended the global premiere of the "Northern Response" documentary at the PG Playhouse.
BC's top doctor noted the pandemic really hit the north hard once the Delta Variant became prevalent but the region found a way to pull together.
"I really think we came together as a province. We had over 190 people who had to be medevaced and flown by air in critical care to hospitals in the south and we know how hard that is on families and communities."
"Things were really bad. When we think about a year ago when the Delta variant had hit we were still trying to get people vaccinated and they challenged us across the north, that is when communities," added Henry.