Imagine turning your office into a shipping and receiving centre or travelling by helicopter to deliver vaccines to a remote community.
These are some of the challenges northern Indigenous communities across Northern BC faced during the peak of the pandemic.
Over 100 people including provincial health officer Dr. Bonnie Henry were at the Prince George Playhouse last night (Tuesday) to view the global premiere of the documentary called "The Northern Response"
Director, Rio Mitchell told MyPGNow.com witnessing the community-by-community approach shown by the First Nations Health Authority was something to behold.
"I really mean it when I said on stage that the future of health care is Indigenous. The FNHA has done a tremendous job of meeting communities where they are at, giving health care for the whole person on a community-by-community basis."
Whether it was riding in a helicopter to see vaccines delivered in Fort Nelson or seeing the coordinated response by the First Nations Health Authority to get supplies out to 500 different communities was a valuable experience all on its own.
"To feel the energy from people's stories as they spoke about the vaccine coming to these small communities and how much excitement there was around every delivery and every arrival and how critical and crucial that was – was an eye opener for sure," added Mitchell."
"The remoteness of the communities and the beauty and variedness of the landscapes and of the communities that was a real gift to be able to see."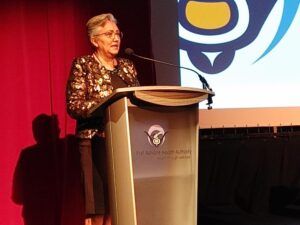 Julie Morrison, VP of Regional Operations for the First Nations Health Authority stated that due to the remoteness of some of the communities, the virus and the restrictions hit people pretty hard.
"I think because we know so many people and families that are from these communities that have had COVID, people I have known for my whole life had the virus and lost their lives was the hardest part. When the first wave hit, we had no idea how bad it was going to get. Without the vaccine, it was pretty scary."
Furthermore, the 14-day isolation rules made it tough for some families to get food, citing a Christmas Day scenario where staff members went out of their way to drive 12 hours to assist a family in need.
"We knew that early on in the pandemic these members were going to have challenges isolating because they wouldn't be able to go out and shop or get food. So, we wanted to make sure they had everything they needed so that they could isolate safely and be comfortable," added Morrison.
Lastly, Morrison mentioned seeing their office turn into a shipping and receiving facility virtually overnight was an eye-opener.
"When we did get supplies into the office, our staff were counting supplies trying to break them apart from the boxes they were shipped in because we had to separate it so that all 55 communities could have access to the supplies they needed so desperately."
The showing was followed by a panel discussion and closing remarks from dignitaries.