Smithers RCMP are investigating an early morning fire that destroyed multiple vehicles.
Just before 4:30 this morning, (Wednesday), Smithers RCMP received a request to assist the Smithers Fire Department at the Sunshine Inn in Smithers, for a report of multiple vehicles on fire in the parking lot.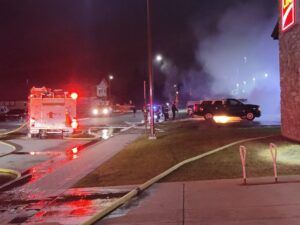 The fire did not cause any damage to the hotel, but eight vehicles, including four RCMP vehicles and one BC Ambulance, were either damaged or completely destroyed in the blaze.
"Thankfully no one was hurt in the fire, which is the most important thing," said North District RCMP Cpl. Madonna Saunderson.
"This appears to be a targeted attack on emergency services vehicles. Preliminary investigation indicates this is an arson, and we are asking for the public's assistance in providing information so that the person or persons involved may be prosecuted to the fullest extent of the law."
Officers staying at the hotel regularly patrol the roads that lead to a Coastal Gas-Link construction site about 100 kilometres away.
So far, no one has claimed responsibility.
Coastal Gas-Link's parent firm says it's increased security at its B-C construction sites as a precaution.
Police are continuing to review the physical and digital evidence already gathered from the incident, including CCTV footage from the surrounding area businesses.
Police are also looking for any dash cam video from individuals traveling near Smithers between the hours of 1:00 a.m. and 6:00 a.m. this morning.